Project Description
Equinox is a luxury health club in the heart of the City of London. The building, largely glass fronted with large, oversized glass doors. As a prestigious location and a busy gym these doors suffer hard wear and tear. The doors which are part manual and part automatic were ready for replacement.
With the end of a recent lockdown imminent the gym and other residents of the building would be returning and it had to look right and work well.
Our brief was to turn this job around efficiently and safely. We sourced bespoke FrameGlass doors complete with etched signage. These doors are unique and that's one of our many specialities – building glass entrances to specification.
The Equinox stands in a pedestrian precinct in the heart of the City of London. Advanced planning allowed us to close a cycle lane on a busy road for delivery and extraction. Using a Liftboy 700 electric floor crane with an ability to lift up to 700kgs, along with an in-line glass vacuum lifter that could cope with the weight and shape of the doors we were ready to access the job.
A banksman guided the doors off the transport and delivered them to the location safely. Despite the gym being still in lockdown this was a working building so a safe working area was established and we set to work quickly.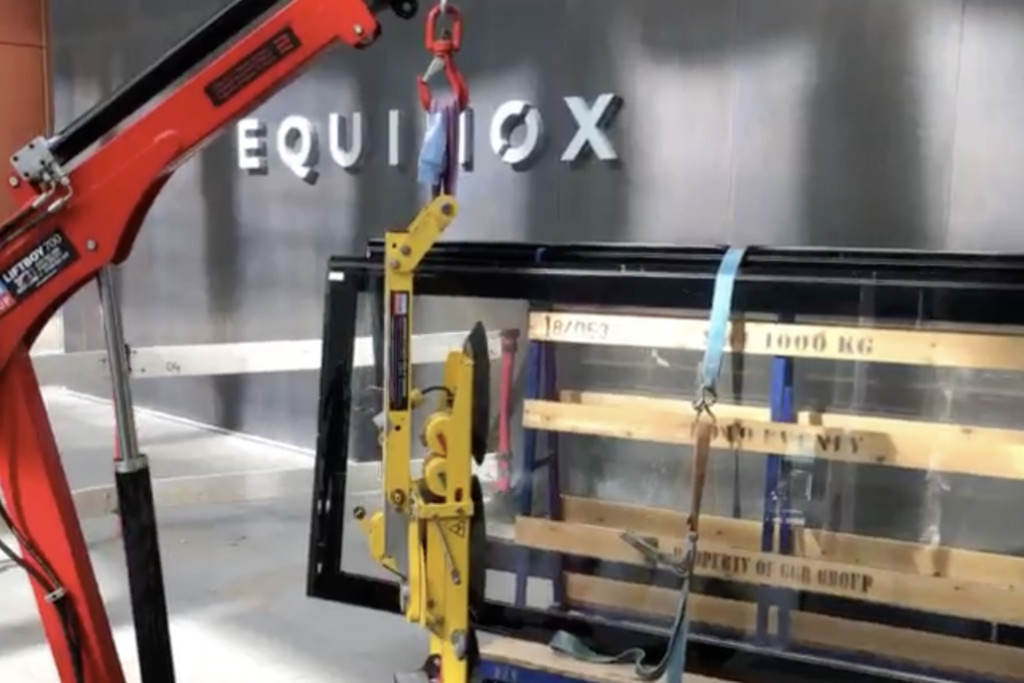 The next challenge was to get the old doors off and get the new ones in. This needed a combination of solutions; a well organised safe working area, the use of the highly manoeuvrable liftboy and an in-line glass vacuum lifter. Plus experienced fitters who know the job and each other well.
The feature door furniture was stripped for retro fitting to the new doors and then began the final challenge of getting the new doors to fit perfectly with the additional challenge of the automatic and manual mechanics of the door mechanisms. This was achieved with our automation experts working with the other fitting team members to make sure it was not only smooth and efficient but worked perfectly for the client.
As we work we are constantly surveying and evaluating the engineering and maintenance around entrances such as these. We identified that the complex automatic and manual mechanisms would need servicing in the future but passed them fit for the new doors.
The vast experience of our team members mean we know what to expect and have the solutions ready to go. If it ever looks easy, that's because we do this day in, day out. We know every fixing, mechanism and the problems that can crop up when fitting doors of this quality and size.
On time and on budget the new doors are in, tested and apart from the amazing new doors you'd never know we'd been there. A textbook job and a happy client.
Project Summary
Location: Equinox, 100 Bishopsgate, London
Client: CBRE
Sharing is Good
Related Projects